Since the early 90's, AMD has been carrying out an on going catamaran R&D program, with emphasis on hull resistance, seakeeping and structure. The seakeeping program alone was described by MARIN as the most extensive of its type that they had undertaken for a client.
As a result of this programme, AMD can offer customers a seakeeping, powering and structural design performance which is a generation ahead of the competition.
SEAKEEPING

AMD's second generation wave piercing hull form has been rigorously tested and optimised through a series of tank tests at the Maritime Research Institute Netherlands (MARIN). A series of 4 metre long self propelled models were tested in a variety of irregular sea spectrums with wave heights of up to 5 metres. The resulting optimized hull shape demonstrated that the AMD second generation hull form has better seakeeping ability and lower vertical accelerations than competitors vessels, and the test data gathered is used to conduct seakeeping feasibility studies for ferry operators.
RESISTANCE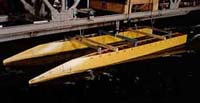 AMD has tested numerous hull forms and hull form variations in a systematic tank test program. As well as resistance, wash heights have been measured, and the resistance effects of shallow water, keel and chine rocker, transom immersion, round bilges, trim tabs and bow thrusters have been investigated. The AMD resistance data base includes high and very high speed waterjet propelled hulls, propeller driven hulls, small planing catamarans, air lubricated catamarans and large high speed car carrying catamarans with speeds up to 60 knots. Resistance data from these tank tests has been supplemented by wind tunnel testing undertaken to determine both the wind resistance of the above water structure and the wind forces during slow speed manoeuvring. From these exhaustive tests AMD is able to select an optimum hull form to match the carrying capacity and speed requirement of a particular project, providing a vessel which is superior to vessels of similar size, speed and capacity.
STRUCTURE

Fatigue cracking of aluminium structures would appear to be a normal operational expectation in much of the high speed vessel industry. This is not the case with AMD vessels. Highly developed design procedures and sophisticated analysis techniques such as the latest 3D finite element analysis methods and panel vibration assessment, combined with AMD's in service experience, enables a much more thorough fatigue analysis to be carried out, maximising the confidence in the reliability of the vessel structure.
NOISE & VIBRATION
Several studies have been undertaken into the area of noise and vibration in an effort to improve noise level predictions in the early stages of design development, giving increased confidence in structural reliability and passenger comfort.
RIDE CONTROL SYSTEMS
Studies undertaken into the area of ride control systems provide accurate predictions of the increased seakeeping abilities offered by ride control. Ride control systems that are used on AMD vessels include active trim tabs, T-foils, fixed foils and combinations of these systems.